MONDAY 30 MAY
Venue: Westin Paris Vendôme
The Official hotel hosting the Women in Tech delegations is the Westin Paris Vendôme. Perfectly situated in the very heart of the city, across from the Tuileries Garden, between Louvre and Place Vendôme, the iconic hotel offers an unparalleled entrée to the City of Lights. The first day program will take place in the beautiful Hotel facilities.
Registration and Welcome Coffee
Welcome address
Ayumi Moore Aoki, Founder and CEO Women in Tech
Dr Christyl Johnson, Honorary President of the Summit 2022,
Deputy Director Technology & Research Investments, NASA 
Opening conversation
Ulrik Knudsen, Deputy Secretary-General, OECD
How can technology fast-track the achievement of the UN Sustainable Goals
Adopted in 2015, the U.N. Sustainable Development Goals are a series of 17 global goals designed to create a better and more sustainable future, targeting such areas as poverty, hunger, health, education, equality, clean energy, climate action, peace and more. Studies show that 70% of the goals could be enabled by the application of the newest technologies, such as virtual and augmented reality, artificial intelligence and robotics. Panelists will discuss the actions their respective organizations have taken, as well as the commitment, policies and partnerships that need to take shape in order to support the achievement of these goals by their 2030 target.
Speakers:
H.E. Hussain Al Mahmoudi, CEO Sharjah Research Technology Innovation Park, UAE
Chiara Corazza, Special Delegate for the G7 and G20, France
Sonia Jorge, Executive Director, Alliance for Affordable Internet and Head of Digital Inclusion Program, Web Foundation
Moderator: Dr Anino Emuwa, Managing Director, Avandis Consulting – Founder 100 Women @ Davos
Women in Tech – Our Impact on the ground
Thanks to our local chapters and our global team, Women in Tech has already impacted a quarter of a million people worldwide. We focus on 4 main pillars which are Education, Business, Digital inclusion and Advocacy. Our mission is to impact 5 million women and girls in STEM by 2030.

Dr Cara Antoine, Women in Tech Netherlands
Melissa Slaymaker, Women in Tech South-Africa
Solape Akinpelu , Women in Tech Nigeria
Claudia Mendes Silva, Portugal
Ecosystem Highlight
How Dream Space is providing immersive, research based experiences for students, teachers and communities to enhance STEM.
Amanda Jolliffe, Dream Space Lead, Microsoft Ireland
Youth Panel: Young minds, Global Visionaries
Today. Tomorrow.
Today's youth are our future and their decisions impact tomorrow's successes. They are visionaries, entrepreneurs, activists, humanitarians and artists! They are engineers, scientists, the next generation of pioneers and more! They are problem solvers and creative thinkers, developing tomorrow's technologies today! They create jobs and opportunities for others by pursing their dreams and passions.
They use their voice to speak for those who have been silenced, marginalized or have not yet found their courage. They push for equality; they fight for change. Today's youth are not afraid to take their seat at the table or grab a chair and make space. Panelists will discuss how they're making their mark on the world, and how we can empower the voices of the future and enable the next generation of explorers.
Introduction comments by Ms Salima Yenbou, Member of the European Parliament
Speakers:
Valentina Munoz, Youth Ambassador UN SDG Advocate
Sanjana K. Patel, Neuroscience and Psychology Undergraduate, Syracuse University
Talia Zoref, NFT artist, Forbes 30 under 30
Florent Pratlong, Vice President Delegate of Entrepreneurship, Director Chaire ETI, Université Paris 1 Panthéon Sorbonne
Moderator: Christopher Charleson, Director Leith Global Advisory
Oxford Style Debate
Women are underrepresented in the Tech workforce around the world. Within G20 countries, the leaky pipeline starts early in education, where only 14.7% of STEM graduates are women. Should there be gender quotas in schools or institutes of higher education in STEM?
Caroline Codsi, Founder and Chief Equity Officer, Women in Governance
Dr Alon Rozen, CEO and Dean of Ecole des Ponts Business School 
Marisa Monteiro Borsboom, Chief Legal Officer, Women in Tech
Stephen Frost, CEO Included

Keynote
H.E. Dr Aisha Bin Bishr, Vice Chairwoman of the Board, EMAAR
Technology: Creating an Abundant, Sustainable Future
Innovation Icons
Passion. Purpose. Planet.
These experts will come together to show how they are applying technology to create a sustainable infrastructure and ecosystems such as artificial intelligence to enable break-throughs across industries; to innovate in sustainable energy production; to enhance capital investments in disruptive innovation and to create a sustainable, environmentally friendly blockchain technology that promotes privacy and freedom. The panel will highlight what we can all do to help build an abundant future using new technologies in a conscious aligned way to support the planet and all the people within it.
Ross Barbash, General Counsel MobileCoin
Tenzin Seldon, Climate Leader and Founder
Dr Todd Ovokaitys, CEO of Qigenix Health Clinics
Dr Saman Sarbazvatan, Deputy Dean – COO, Ecole des Ponts Business School
Moderator: Nathana O'Brian Sharma – General Counsel – Labelbox Inc
The Power of ASK
Kathryn Rose, Founder getWise
Are you asking for what you want? If you're like most women the answer is no. But without asking where will you be? "Closed mouths don't get fed" as they say. The Power of Ask will take you on a journey from being anxious to empowered to make the right asks of the right people at the right time. The power of ASK is going to help you be more confident, more comfortable about asking–and getting what you want.
In this must-see talk you will discover:
1. Why asking is so challenging for some
2. How to frame your ask to be more comfortable
3. The ASK formula and how to apply it
How can Education, Art and Tech be agents of Peace and Women Empowerment
Zarifa Ghafari, First female and Youngest Mayor of Afghanistan, Activist
Rachel Khan, Writer, Jurist, Actress, France
Giuseppe Saviano, Head of Operations and Partnerships, Laudato Si Challenge Foundation
Moderator: Davy Braun, Strategist, Designer & Technologist
Digital Health Conversations – A sector in full swing
Florence Gaudry-Perkins, Founder & CEO, Digital Health Partnerships
Franck le Meur, President Techtomed
STEAMing Tech
Galit Ariel & Lauren Xandra, Humans of STEAM

How do we develop emerging technologies in ways that are more responsible, responsive and respectful towards everyone? In this workshop, small teams will respond to an emerging tech and design brief, guided through "what if" scenarios to tackle big challenges in a bleeding-edge field. Teams will be encouraged to approach the near future's wicked problems with novel solutions.
How to develop and advance your career in tech
Jameka S. Pankey, Head of Global Change Management, Operations and Strategic Events for Amazon Web Services (AWS)
This session will dive into the importance of mentorship, sponsorship, and the tools needed to own your career development. During this session we will take a deep dive into each area and help you learn how to create a road map for your career development. The session will also encourage, empower, and provide a wealth of tools and resources to aid in your road mapping no matter your work environment.
EQ – Stepping into the New Paradigm of Self-Leadership
Daria Vodopianova, Co-founder The Thought Leadership Academy
In the last two years, the world has undergone a radical shift in remote work and leadership. And we are yet to experience the after effect of it, both the sweet and the sour…
According to "The Development Dimensions International's Global Leadership Forecast 2021", including data from more than 15,000 leaders; "There are clear signs that the pandemic will lead to serious retention issues because leaders who are feeling burnout are nearly four times more likely to leave their positions within the next year."
In this interactive session, you will get insights, comprehension and tools on how emotional intelligence can help you and your team to transition into the New Paradigm of Leadership.
Hiring a CTO that sets your business up for scale
Etienne de Bruin, Founder 7CTO's
The role of CTO is to be the tech person to the business people and the business person to the tech people. What the CTO focuses on varies depending on the stage of your company. We will discuss what a great CTO looks like and the impact they should be having on your business.
Call to Action: Empowering strategies for culture transformation
Anna Makinen, Women in Tech D&I Director
Nessa Maguire, Founder and CEO EudaOrg Ltd.
A recent Harvard Business Review found that 40% of workers feel isolated at work. Some feel that building an inclusive culture is not part of their role or is too challenging. In this interactive workshop, we will look at how every person can be a leader in developing belonging and inclusion in their organisation. Focusing on simple and effective strategies, the workshop will consist of:
Facts and insights from global Equality, Diversity, and Inclusion (ED&I) specialists.
Facilitated creative hubs for brainstorming how to incorporate these strategies into your organisation.
A Call to Action! We will end with everyone identifying a minimum of one action they will implement in their own practice.
This is a practical and accessible workshop, open to anyone who wishes to learn more about ED&I.
The Art of Growing communities with Inbound Marketing and Automation
Torio Barbosa, Co-founder Mkt4Edu
Gustavo Gonçalves, CEO Mkt4Edu
Hands-on strategy and tools to implement and grow your online community.
Dinner and Entertainment
Cocktail and Dinner courtesy of SAIC – Westin Paris-Vendôme Hotel, Salon Concorde

Fireside chat
Nyla Beth Gawel, Senior Vice President, Corporate Strategy SAIC
Caroline Codsi, Founder and Chief Equity Officer, Women in Governance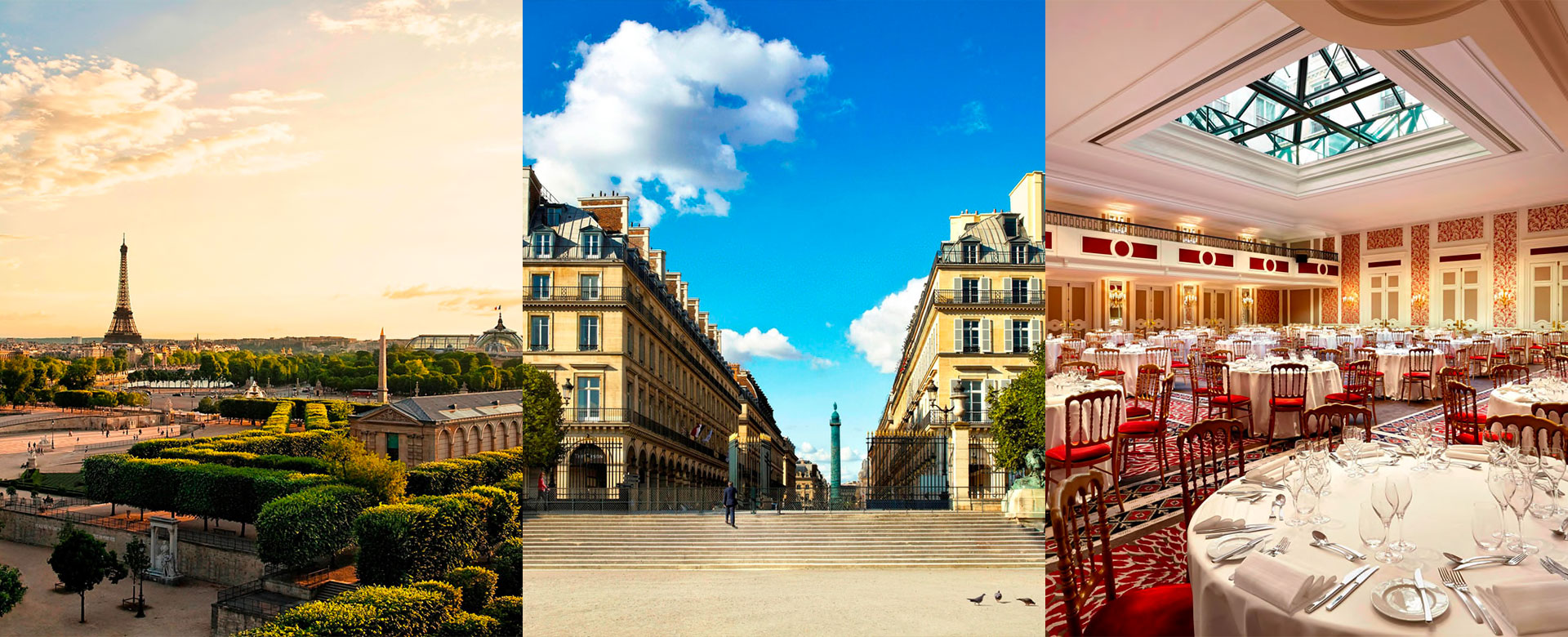 TUESDAY 31 MAY
Venue: 3 Mazarium, Paris 6ème. Designed by Atelier Marc Barani, the venue is a unique space at the Institute de France, combining centuries-old history, contemporary design and prestigious receptions. 
Evening: Gala dinner at the Hotel Westin Paris Vendôme, Imperial ball room.
Welcome Address
Ayumi Moore Aoki, Founder and CEO Women in Tech
Opening Keynote
Dr Vjosa Osmani, President of the Republic of Kosovo
Reaching for the Skies
Fireside Chat with Her Highness Sheikha Mozah bint Marwan Al Maktoum
"Space Exploration – Opportunities for Equality, Empowerment, and Innovation
Equality.  Empowerment.  Innovation.
Using space as a means to empower women, promote gender equality, and encourage young women and girls to pursue careers in science, technology, engineering and math (STEM), as well as in innovation and exploration.  Learn about the key unique experiences, challenges, successes, skills and advice for empowering women to fully participate towards the goal of achieving gender equality in future space-related STEM, innovation and exploration activities. With human exploration of Mars on the horizon, new technologies are needed to send humans farther into space. Participants will discuss their role in this endeavor, new technologies being created, the significance of landing the first woman and first person of color on the Moon under the Artemis program, and the lasting impact on future generations.
Speakers:
Philippe Baptiste, Chair and Executive Officer of CNES
Ersilia Vaudo, Chief Diversity Officer ESA
Joseph "Joe" Poist, Vice President, Civil Space, SAIC
Dr Christyl Johnson, Deputy Director Technology & Research Investments, NASA
Moderator: Ana Pires, Researcher INESCTEC, Scientist-Astronaut Candidate program graduate with the International Institute for Astronautical Sciences (IIAS)
(IM)possible futures. Creating the tech we all deserve.
Galit Ariel, Techno futurist
Looking at the intersection of culture, technology and humanity, Galit Ariel will explore new innovation facets and global shifts we should consider, at the edge of a new human era.
Takeaways from her talk:
• Who's future(s) is it anyways ? New tech equity and players.
• The good, the bad and the (really) weird way we apply and use technology.
• Understanding past mistakes to recalculate routes for fairer and more inclusive tech futures.
Emerging trends of enabling technologies
Technology. Innovation. Economy.
Enabling technologies are fundamental for economic growth and employment. How to leverage the emerging trends of the Industry 4.0 (Big Data, Analytics, AI, Blockchain, Metaverse, Crypto) to design, develop, and implement digitally empowered economies that are ethical, gender-balanced and sustainable?
Speakers:
Elena Grimme, Microsoft, General Manager, Cyber Affairs and Critical Infrastructure, European Government Affairs
David Newitt, CEO Yondr Group
Sandrine Pons, Regional Vice President, Head of Solutions Sales & Innovation, EMEA North at SAP
Daniel Besendorfer, CEO of Allianz Technology
Moderator: Lori Rodriguez, Chief Digital Advisor, Women in Tech Global
Pivoting to Purpose
Stephenie Rodriguez, Founder of WanderSafe
A serial startup founder shares her remarkable journey and practical wisdom/hacks for turning failure and challenges into purpose.
Pitching for an Inclusive Digital Future
Selena Souah, Founder and Chairperson REVOLUTION' AIR
Tolu Oke, Global DEI Customer Engagement Leader at Amazon Web Services (AWS)
H.E. Hussain Al Mahmoudi, CEO Sharjah Research Technology Innovation Park, UAE
Isabelle Mauro, Director, Head ICT Industries at World Economic Forum (WEF) 
Moderator: David Savage, Group Technology Evangelist at Harvey Nash Group
Web3: a paradigm shift to the future of digital ubiquity
Web3, Blockchain Protocols, NFTs and the Metaverse, these are all topics garnering buzz and attention from the average person on the street, to governments, large corporates, institutions, startups, influencers and brands. Is there more to the mainstream hype? How can these technologies solve real world problems and who is doing it well?
Speakers:
Helen Hai, Head of Binance Europe & Africa, NFT & Charity, President of Bifinity, UNIDO Goodwill Ambassador
Mel MacCann, VP Engineering, Cardano Foundation
John Karp, President NFT Factory
Dounia Agharbi, Product Marketing Lead at ConsenSys
Moderator: Nadia Mannell, Chief Strategy Officer Women in Tech
Superhuman Conversational AI
Behshad Behzadi, VP Engineering Google
AI has reached superhuman levels in various areas such as playing complex strategic and video games, calculating protein folding, and visual recognition. Are we close to superhuman levels in conversational AI as well? In this talk, we address this question, sharing some of the recent developments from Google Cloud AI, Google Brain Research, Deepmind, and Duplex across speech recognition and generation, and natural language understanding.
Food Systems On Fire
People. Planet. Economy.
The devaluation of food quality may very well be at the nexus of health, climate, economic stability, and even national security. With competing trends of obesity and starvation, scarcity and waste, the nutrient value of our food supply is deeply implicated in the longevity of the planet.
This panel explores how disruptions in our macrobiome and the biochemical expression of food have sparked a cycle of pathogenic imbalance and an increase in chronic health conditions, while food waste in an unstable system has engendered a global rise in malnourishment.
Discover how solutions in the form of technological advances, information sharing and education are revolutionizing food awareness, access and sustainable agriculture, to the benefit of all.
Speakers:
Dr Anna Cabeca, DO, FACOG, ABAARM, ABOIM, Golden Isle Medical Inc. dba The Girlfriend Doctor
Dr John Bolten, Associate Program Manager NASA Applied Sciences Program
Aoibheann O'Brien, Co Founder & Partnerships Director, FoodCloud
Geeta Sethi, Advisor and Global Lead for Food Systems, World Bank
Moderator: Teri Cochrane, Founder & CEO of the Global Sustainable Health Institute
Start-Up talks: Championing inclusive ecosystems for successful exits
Tech startups have a gender diversity issue at all stages – from early funding to growth to expansion to the exit phase – and this isn't a recent phenomenon. The disparity between male and female employees has been a significant and consistent challenge, with startups often neglecting the value women bring in the generation of ideas, decision-making and funding. Many startups that employ more women than their counterparts have proven to be more profitable in the long term. Panelists will outline what they have done to overcome these challenges and what others can do to drive change in the future.
Speakers:
Pakiza Abdulrahman, Head Business Development at Economic Development Bahrain
Etienne de Bruin, Founder 7CTOs
Magali Mouquet, Founder and Chairwoman, Mantiq
Gideon Richheimer, CEO and Co-founder Autofill Technologies
Moderator: Nino Lortkipanidze, CIO THE Crossroads, WIT Georgia Ambassador
Closing ceremony
Dr Christyl Johnson, Deputy Director Technology & Research Investments, NASA
Natascia Radice, Equilibrium
Ayumi Moore Aoki, Founder and CEO Women in Tech® Global
Gala Dinner
Westin Paris Vendôme Hotel, Imperial Ballroom.
Dress code: Black tie
Welcome address by H.E. Denise Campbell Bauer, Ambassador of the USA to France
Women in Tech Prize-Giving