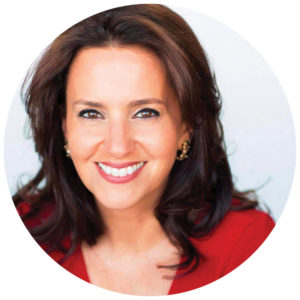 A passionate and strategic leader, Caroline Codsi has had a successful career in the corporate world of over 25 years including the past decade in VP and SVP roles within major organizations.
Caroline founded Women in Governance in 2010, a not-for-profit organization with a mission to encourage women to develop their leadership, advance their career and sit on boards. She dedicates her life to all matters relating to the access of women to executive roles and board positions in the corporate world in Canada as well as women's equality rights everywhere in the world.
Women in Governance's programs have a deep and concrete impact for equality in Canadian society (major events, mentoring program, governance courses, corporate Parity Certification, etc.).
A graduate in Human Resources from HEC Montréal as well as in languages and foreign civilizations from l'Université Paris-Diderot (Paris-VII), Caroline also completed the Institute of Corporate Directors (ICD)'s Program at McGill. She is a Scholar, Valedictorian, Ambassador and Examiner for the ICD.
Born in Beirut, Caroline was only 7 years old when the war started and 22 when it ended. A Citizen of the world having lived on three continents, Caroline is fluent in 4 languages and can understand 6.
A highly sought-after speaker, Caroline is the recipient of Awards from the Quebec Business Women Network, the Arab Women Trophy and Premières en Affaires among others. She was recognized as a Top 20 Diversity Leading Figures in Quebec, Top 75 Canadian Immigrants and Top 100 Most Powerful Women in Canada. She is also the recipient of a Gender Equality Award by the United Nations' Women National Committee, a Leadership Award from the Mercuriades (Quebec's Federation of chambers of commerce) and a Leader of the decade for diversity & inclusion award from New Delhi's Women Economic Forum. Appointed to the National Committee on Gender Equality by Prime Minister Justin Trudeau, she works tirelessly in Canada and internationally on the issue of gender equality and women's access to decision-making bodies.